Easy-Data Mediacenter (EDM2013) for FREE!
Media player development and multimedia software as it should be!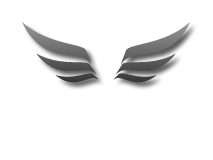 Primary tagline goes here!
News 01.12.2013 Work Update
I have just ordered parts to what is to become my new work computer. It is a rather nice and fast, and with a new DAC also. The work of EDM2014 version 3.0 will start as soon as have the new computer up and running. There will still be a couple of updates to the current one first, but the new one is quite different in many ways. It will be lightning fast, every part of the mediacenter will get its own engine, there will also be several new tools, and heavy improvements on other.
It will also change in look and feel. The current version is mainly made for use on large screens and tv's. The new will be more like a middle way that can be used by all sizes of screens. The whole program will be made by parts, so as soon as one tool is finished it will be released. I am starting with the Video player part first and then the audio and with the coresponding libraries and playlists for both.
The result will be a tool with all the options you have today + lots more like CD/DVD burner Audiomixer etc. But with extreme low memory and cpu usage, and lightening fast in use. All current libraries will be fully supported in the new version. And finally, it is still completely freeware. Its time to say hello to the big guys!
News 25.11.2013 EDM2013 v.2.3.6.0 Update
I am sorry for the delay in this update. The skin update gave me a bit of trouble, but now it seems to be working as it should. Besides the skin component update I have done some small changes to the gui of the program. Anyway, this update is to be seen as a minor update. If you dont have had any trouble with the skins before there is not really any need to update to this version. But if you have an older version than 2.3.5.2 you should update reasoned the new addon released in that version.
News 20.11.2013 Work Update
Good news. It seems the skin trouble is history. I have been testing the new skins components the last couple of days and are no longer able to get the errors I have been talking about. The scary thing here is that I still dont know exactly what caused it, or what I did to fix it. Well, I do know what i have done, but I cant see how those changes fixed the trouble. But all the errors is gone now. I still need a day or two to find out what the sollution was, and how I did get there before updating.
As a side project I am working on a page that will have video examples of the use of Easy-Data Mediacenter, and some tips and help on how to work with the tools on my site.
Finally, a suggestion for those of you that like watching good TV-series. The Blacklist, and The Fall is two really cool series you should try out. You can find some more info here:
If all goes as planned there will be an update of EDM2013 out tomorrow.
News 18.11.2013 Work Update
Ok, now i have changed the skins to the newest version, but the problem is still here. I am trying to work out a sollution, but it is quite hard to find the reason why the skins suddenly dissapears. I will continue to look for a sollution, but it may take a few days more. I will get back when i know a little bit more.
News 15.11.2013 Work Update
I really havent done as much as i wanted to the last couple of days. I am watching the World championship in chess. And somehow i find myself playing chess on the computer rather than continuing the work lol. I am easely carried away. Well, tomorrow i am going to do the updates of the skins. (after the chess game) And I will let you know how it works out as a start tomorrow night.
News 13.11.2013 Work Update
Those of you following what I write here may remember I have talked about all the trouble I have had with the skins components I have been using on EDM2013. Well, now I have got a major update of the skins, so hopefully that nightmare is over. Today I have started upgrading the skins, and going to use a couple of days testing and try to make everything a bit better than before. The trouble with the skins has been that suddenly without any reasonable explanations the skin used has just gone white, and messed up the program. Refreshing the skins has not helped at all, just by selecting another skin than the one used the problem is solved (for a while). I will post a message on how the testing goes in a couple of days. Another thing I am working on is that the screencapture tool (and some of the other tools) wont start recording if you have played a video file first. To get it working again a restart of the EDM2013 has been required. I think I am close to a sollution, but we have to see if it works out allright.
News 12.11.2013 EDM2013 v.2.3.5.2 Update
Today there is a new update with a new addon to EDM2013. The Batch File Renamer Tool. Besides this new addon the EDM2013 now autodetects if there is a screensaver enabled when starting a video file, and gives you the choise of deactivating the screensaver. There is also some minor bug fixing. The Renaming tool is useful if you need to rename lots of files. E.g Pictures. You can find the tool under the Addon part of the main popup menu. This tool is also a standalone tool that can be downloaded as a single file from our download page. But from now on the tool is in the EDM2013 package, so there is no need to download both.
News 11.11.2013 Work update
I have just finished a new addon to EDM2013. As usual this tool is both an addon to EDM2013 and capable of beeing a standalone tool at the same time. It is a Batch file renaming tool like the one that was in the old EDM. So, tomorrow there will be a new release of this tool, and an update of EDM2013. For those of you downloading the updated EDM2013 the tool is in the package so there is no need to download both. Besides the addon there is a few improvements to the EDM2013 tools also, but you can read more about that when it is updated. Below is a picture of the new addon.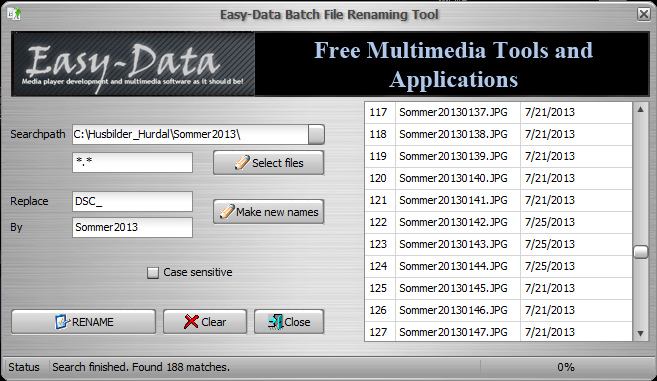 Easy-Data Mediacenter is more than just a audio/video player. It is a multimedia application with lots of useful tools regarding audio/video. No other media player is even close when it comes to usefulness. Still, it is completely portable and does not need installation, No registry settings added, and no external codecs needed. Easy-Data Mediacenter is developed for use with television screens, hence the rather large program window and big buttons. But it can also be used on normal screens. The Audio part of the program is able to deliver outstanding sound due to the use of wasapi. On a normal computer you wont be able to make much difference, but when you connect a decent receiver to it then the sound quality will blow you away. There is not much settings regarding sound. EDM2013 delivers bit perfect (untouched) sound to your receiver and let it handle the processing of the sound as a receiver is able to handle this way better than any simple sound card on a computer.
EDM2013 is under constant developing and is still far from finished. I have stated that within 3 years from now it will be the absolute best media player on the marked. It is already the best regarding number of tools, and also one of the very few able to deliver bit perfect sound. But everything can always be better, and that's what i am aming for in the future. I don't want this program to be good, I want it to be the best!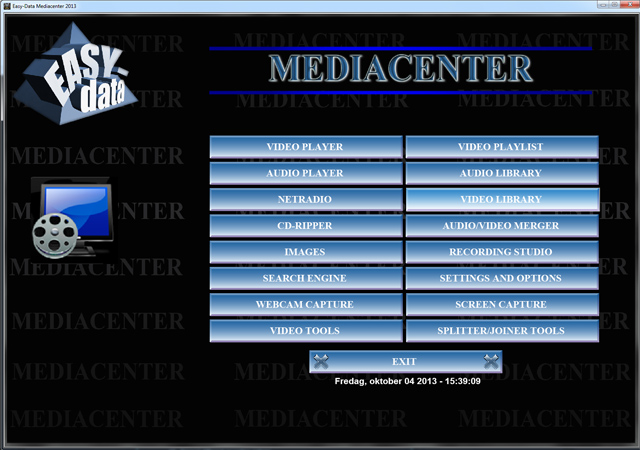 KEY FEATURES OF EDM2013
No installation needed.
No external codex needed.
Bit Perfect Audio (Audio player only)
It is completely free.
Video Player, Video Library and Play lists.
Audio Player and Audio Library.
Net radio.
Video Converter, Video Joiner, Audio/Video Merger.
Pictures and Audio to Video.
Image Slide show with lots of options.
CD Ripper with free db lookup.
Several different recording options.
Uses Wasapi Excusive Mode and floating channels.
Supports almost all known audio and video formats.
You really need more?
Screen capture to Video.
Subtitle search, Artist info ++.
File Splitter/Joiner.
Vob Merger.
Web cam capture.
Improved continuously.(rapid bug fixing)
Below is a sample of some skin effects.
Click on images for a larger view.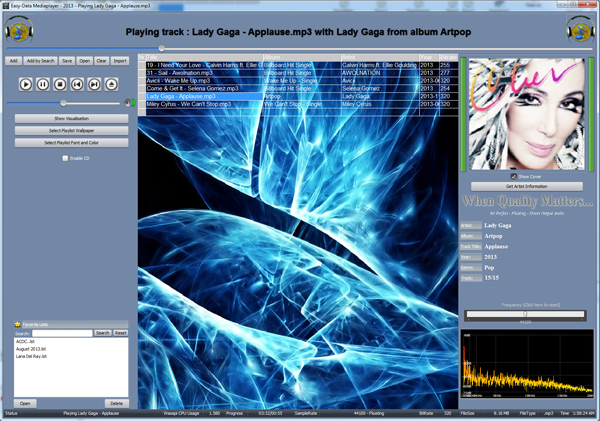 Example of skin effects in audio player.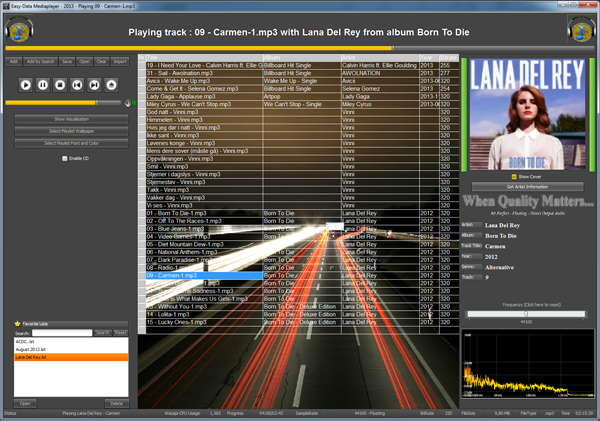 Another skin example in audio player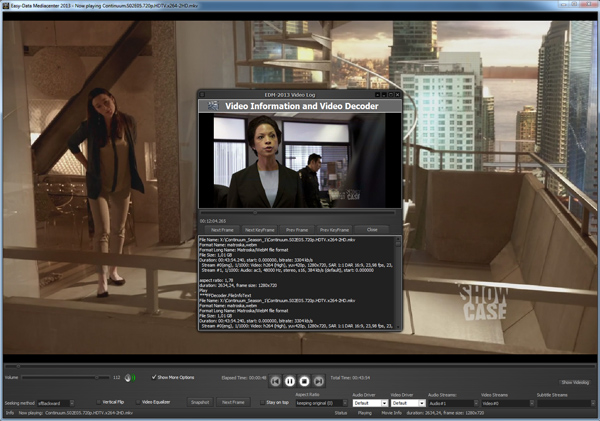 Video player with decoder window opened.
Older news can be found here
To get a closer look at Easy-Data Mediacenter (EDM2013) you can go here
You could also take a look at our CD/DVD burner: Silentnight Microburner
Finally, if you are looking for great freeware this place is one of the absolute best places to go!