Easy-Data Mediacenter (EDM2013) for FREE!
Media player development and multimedia software as it should be!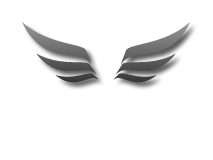 Primary tagline goes here!

News 09.03.2014 EDM2014 Video Library Released
Ok, here it is. The brand new library part of EDM2014. With this tool you can organize all your movies in a nice and easy way. It is vital that you understand the concept of the tool before start using it, so please read this page before starting to add movies.
News 08.03.2014 Work Update
Finally I have managed to get the adding of movies to the library much more easy for the users. It turned out to be a very simple change in code, and I am a bit frustrated over not notice it before now...
The get cover art part of the library has been a bit unstable, and it has upto now been nessesary to manualy drag images from imdb or google onto the program. This is still an option by the way. But now if you have the imdb link everything goes automaticly. This makes adding movies much faster than before. Notice that if there are none available cover art on imdb you still have to use google manually like before. It is impossible to get that part fully automatic cos there are so many results showing, and you do want the best quality cover, therefor this part will not change.
In last update i wrote that there was only some small things left. I must have been mad! I have done so many changes already, and i have a lot left to do. Several procedures has been highly improved, and also a lot on the GUI side. Just to mention it, I did thought the library was amazing when i wrote the last update. I really mean that. But i did get a few great ideas that turned out to be a lot more than i thought possible. I am also trying some translation tools on the EDM2014 Video Library. So first release will have the following languages: English, Norwegian, German, and French. I know the translator software is pretty bad, but if you do find a bad translation inside the program feel free to email me the correct translation.
News 03.03.2014 Work Update
I am still working on the video library. As it is now, there is only some small things left before I am finished. That said, this tool will need to go throug several updates before I have what I want, but the first release will be fully functional, and later updates will be fully compatible with this version. With so many functions and lookups there is quite certain that bugs will appear.
Below is a couple of screenshots so far. Just note that there could be some gui changes before the release.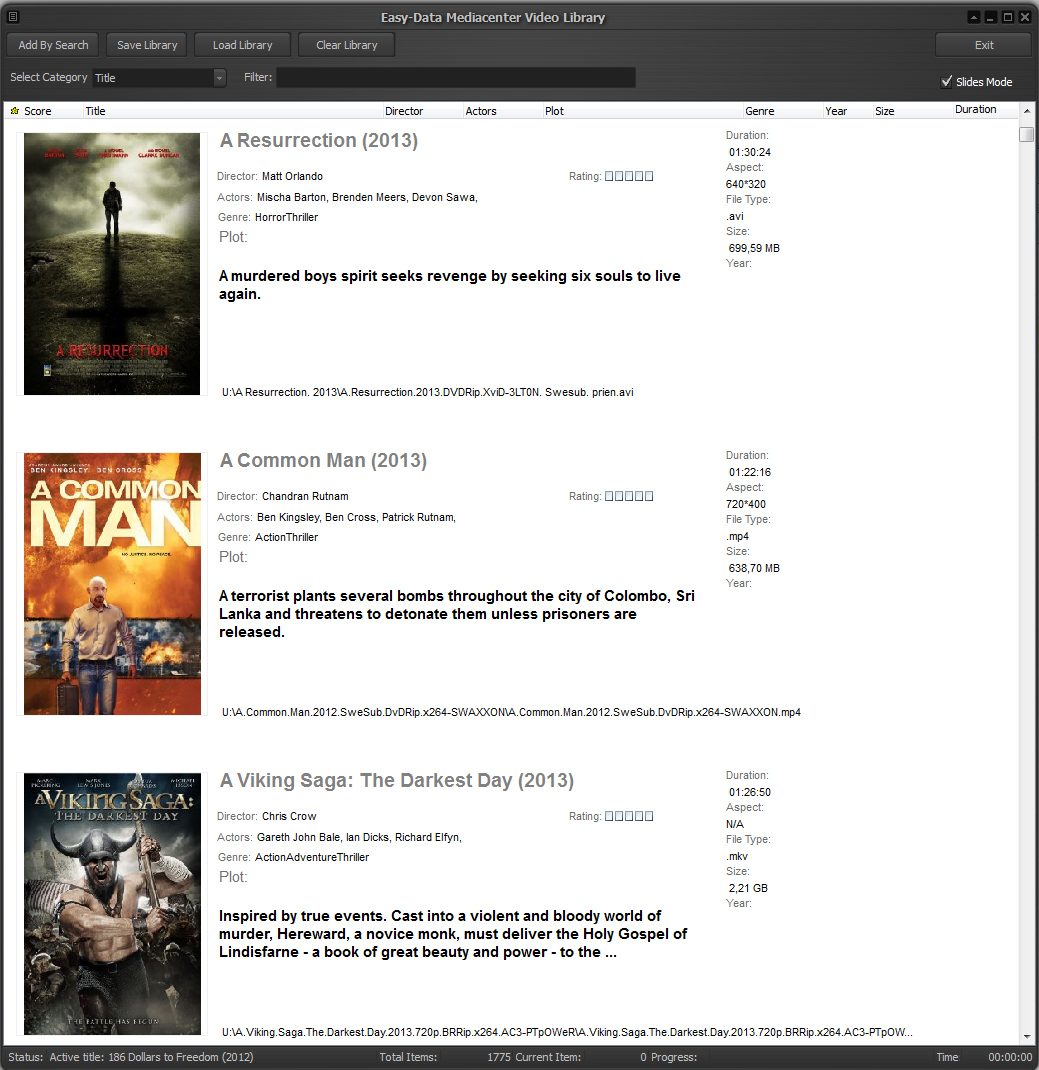 This is the standard Slide mode in EDM2014 Video Library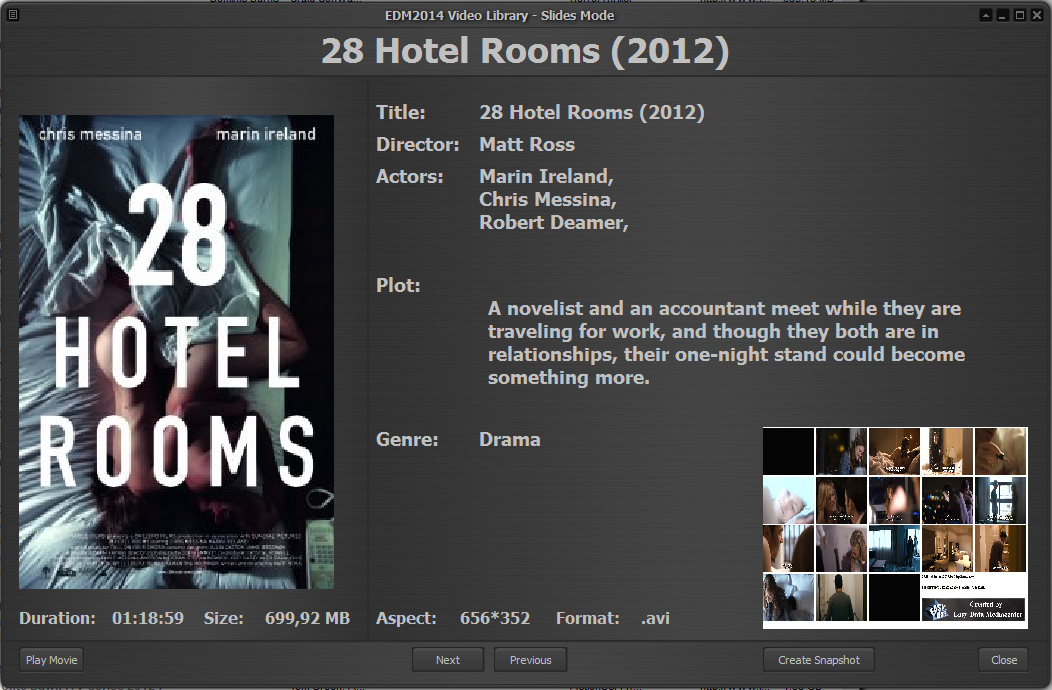 This is the Alternate (but much faster) Slide mode.
This is not quite finished, so there will be some gui changes to this part.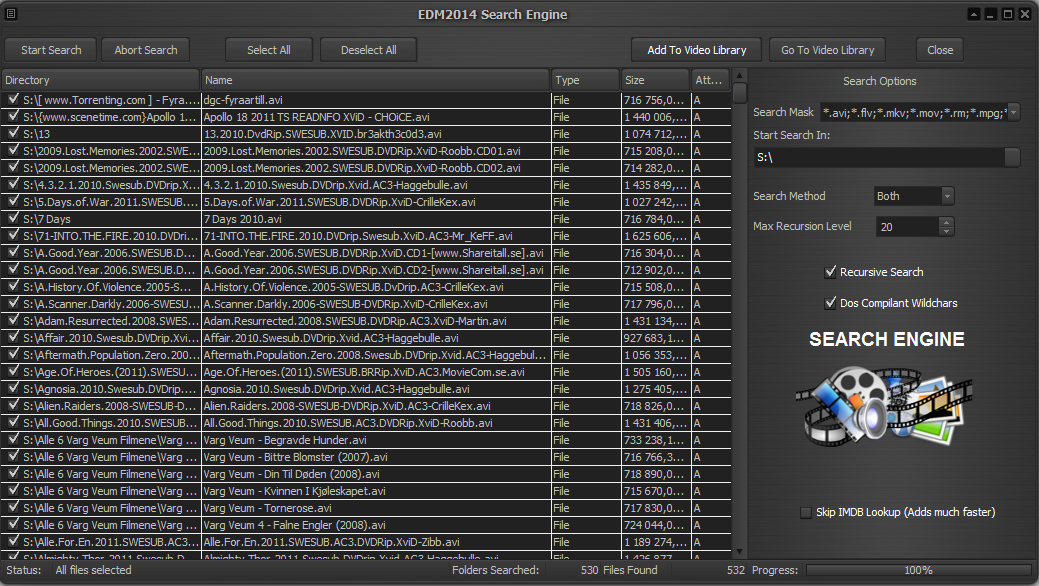 This is the Search Engine for automaticly adding of movies.

This is the manual input/edit window.
It seems likely that I will have it ready for release this week, but i wont promise. And as always, I would be happy for suggestions regarding the library.
News 26.02.2014 Work Update
The third part of EDM2014 is now under construction. This time it is the Video Library I am working on. Getting it standalone is a simple task. Whats not so simple is to get it more user friendly. And that is what I am working on now. First of all there will now be drag/drop support. In other words, just drag a movie to the library, and it will be added automaticly.
I am going to keep the old folder structure used in the 2013 version. So to add movies you need to have your movies like this:
What you need to do is to create a folder for each movie. The reason for this is that the folder for the movie also will include a text file pointing to the IMDB information for the movie, and also a movie cover (if available). Besides this is a good way of keeping your movies well organized, and easy to find.
When you are adding a movie the Video Library checks for the IMDB link and cover image inside the movie folder. If no IMDB link or cover is found, it just adds the basic movie info like filename, size, lenght etc. Still it is quite easy to get the rest of the needed information. Just select edit movie from the popup menu, then click the Open IMDB button enter the movie name and click search. When you have found the movie copy and paste the IMDB link from the browser to the IMDB link field in the prorgram, and finally click the button: Lookup IMDB. Just remember to save the library when done. One tricky thing is the cover art. It is not always found at IMDB. As standard the Video Library when no covers found adds a predefined cover art. Still you can get the right cover for the movie either by scanning it, or use google to search for the movie title and then select show Pictures in search result. When you have found the right cover, save it to the movie folder as a .jpg file and with the exact same name as the movie itself. The next time you load the slides in the Video Library the cover will show. The Video Library is now compatible with any video player on your system. When doubleclicking a movie it start the move in your systems prefered player.
The Video Library is up and running as it should so far, but I do need to work some more with it. One of the things I would like to get better is the loading time when going slide mode. When you just have a couple hundred movies its fast enough already, but when you have a library with several thousand movies the loading of cover thumbs is kind of slow. So I think I will have to make that loading in separate threads.
Ok, thats a short description on what I am working on right now. I dont know when it will be ready to release yet, but it should not take to long.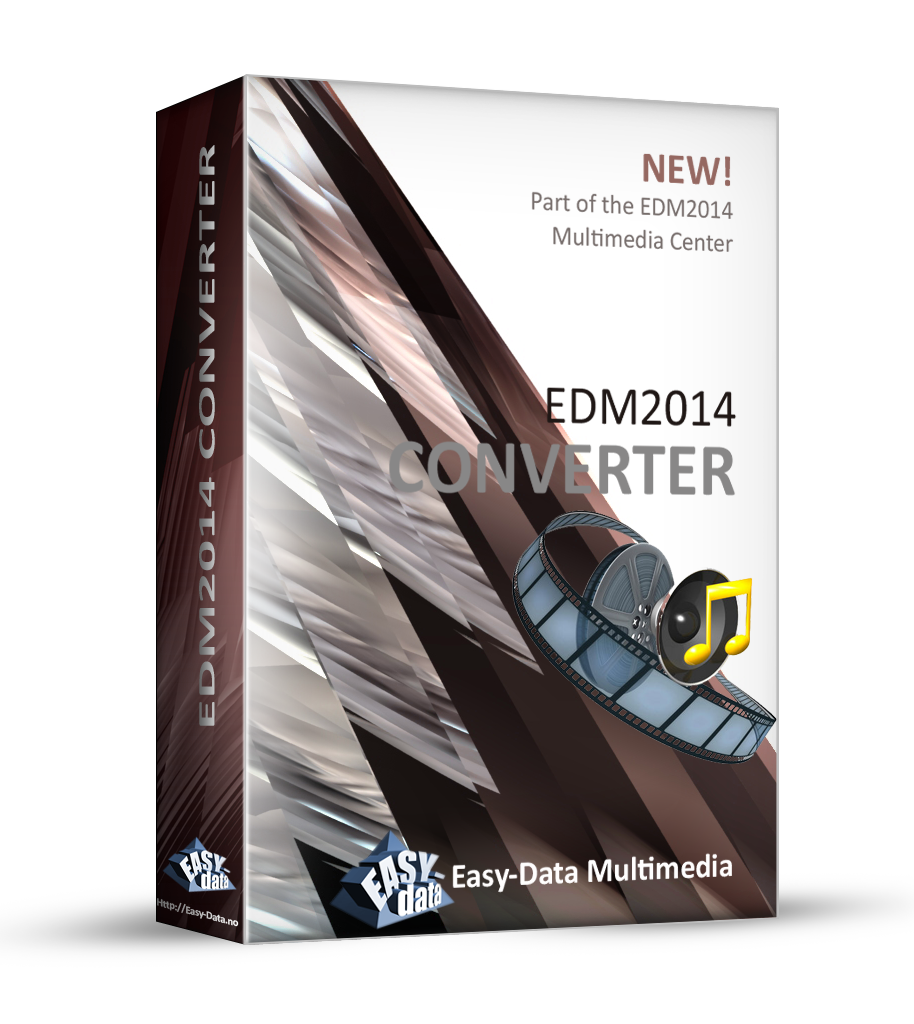 News 22.02.2014 EDM2014 Video Converter Released
Part 2 of EDM2014 is ready for release. This time it is the Video Converter part. Just as the video player part this is also a standalone application with its own installer. You can read more about it here, or download it from this page.
News 18.02.2014 Work Update
I am working on the next part of EDM2014. This time it is the video converter. So far everything looks good. The gui part is the biggest change from the converter used in EDM2013, but it is also going to be more easy to use and with full drag/drop support. I dont know exactly when it is ready for release, but i hope within a week or two. I will post some images of the work so far within a couple of days.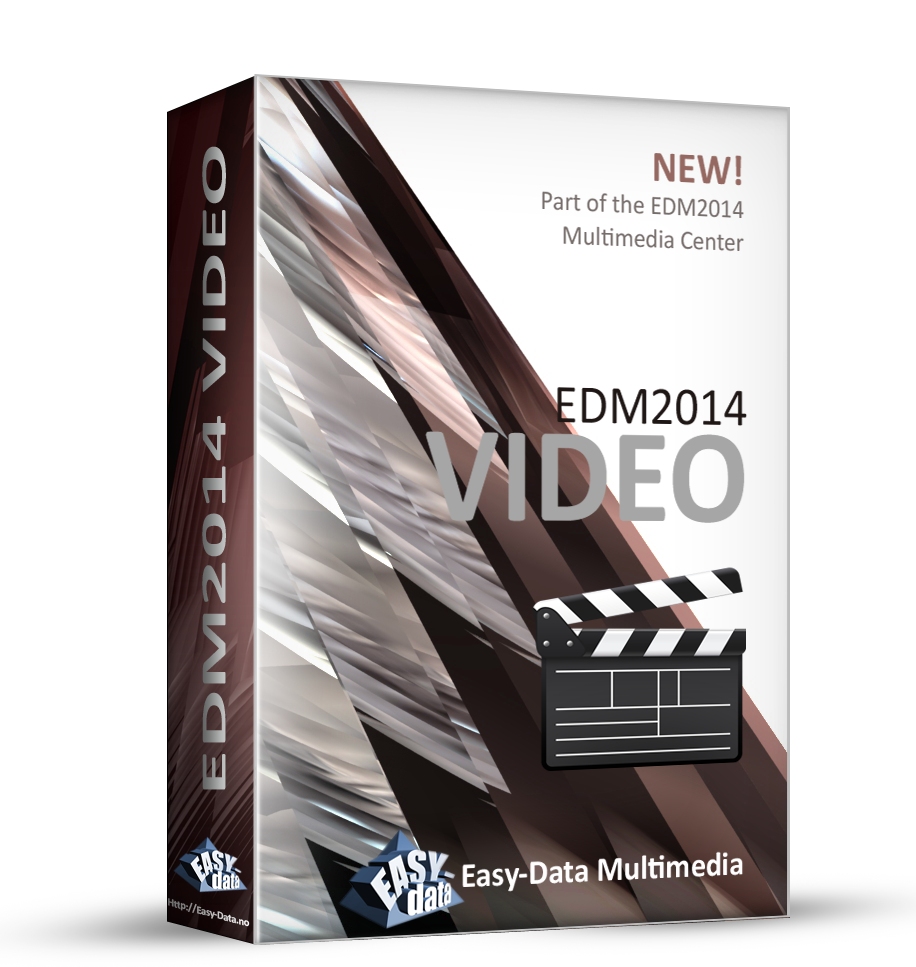 News 15.02.2014 EDM2014 Video Released
As previous mentioned the new EDM2014 will be released bit by bit starting with the video player part called EDM2014 Video.
The main changes in the video player is that it is extremely fast, smaller gui to be more fitted to normal computer screens, and that everything works and feel much smoother than last release. New functions like speeding up or slowing down playback is added and pretty much all code has been rewritten to get a better userinterface. There is also added install and uninstall option.
This release is really a standalone video player that does nothing else than playback video files. No converting options or anything else. As previously mentioned each bit of EDM2013 will be standalone from now on, yet there will be a main menu to control every part of the new tools. This main part will not be released quite yet as there is a lot of work to be done before the final product is ready. Until then, if you want a really fast and reliable videoplayer do download and try the new EDM2014 Video.
Main features:
Extremely fast loading.
Play all well known video formats out of the box. No codecs needed.
Subtitle support. Subtitle search.
Low CPU and memory usage.
Create single snapshots or snaps from the whole movie.
Get indepht video info and decoder.
Lots of adjustments options.
Its completely freeware without any addware.
Easy-Data Mediacenter is more than just a audio/video player. It is a multimedia application with lots of useful tools regarding audio/video. No other media player is even close when it comes to usefulness. Still, it is completely portable and does not need installation, No registry settings added, and no external codecs needed. Easy-Data Mediacenter is developed for use with television screens, hence the rather large program window and big buttons. But it can also be used on normal screens. The Audio part of the program is able to deliver outstanding sound due to the use of wasapi. On a normal computer you wont be able to make much difference, but when you connect a decent receiver to it then the sound quality will blow you away. There is not much settings regarding sound. EDM2013 delivers bit perfect (untouched) sound to your receiver and let it handle the processing of the sound as a receiver is able to handle this way better than any simple sound card on a computer.
EDM2013 is under constant developing and is still far from finished. I have stated that within 3 years from now it will be the absolute best media player on the marked. It is already the best regarding number of tools, and also one of the very few able to deliver bit perfect sound. But everything can always be better, and that's what i am aming for in the future. I don't want this program to be good, I want it to be the best!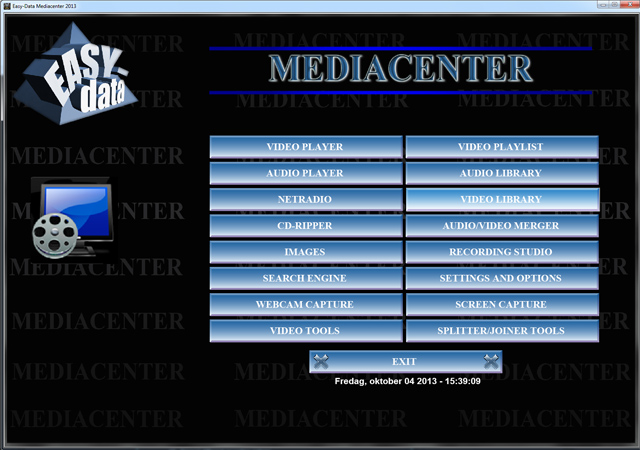 KEY FEATURES OF EDM2013
No installation needed.
No external codex needed.
Bit Perfect Audio (Audio player only)
It is completely free.
Video Player, Video Library and Play lists.
Audio Player and Audio Library.
Net radio.
Video Converter, Video Joiner, Audio/Video Merger.
Pictures and Audio to Video.
Image Slide show with lots of options.
CD Ripper with free db lookup.
Several different recording options.
Uses Wasapi Excusive Mode and floating channels.
Supports almost all known audio and video formats.
You really need more?
Screen capture to Video.
Subtitle search, Artist info ++.
File Splitter/Joiner.
Vob Merger.
Web cam capture.
Improved continuously.(rapid bug fixing)
Below is a sample of some skin effects.
Click on images for a larger view.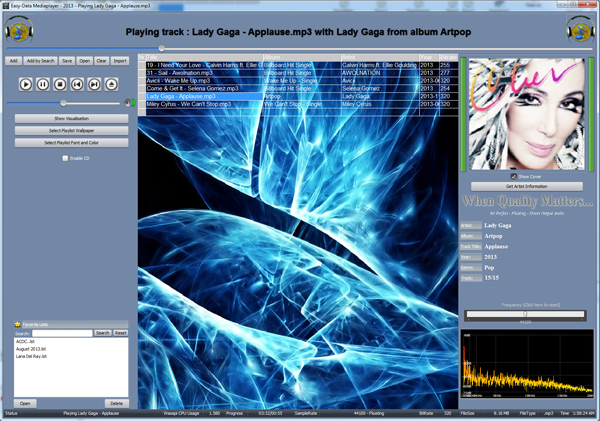 Example of skin effects in audio player.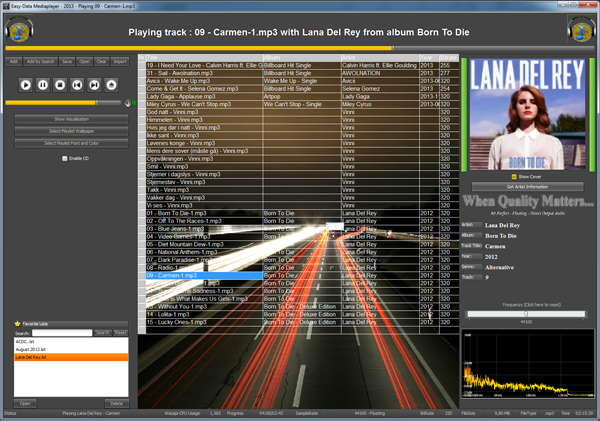 Another skin example in audio player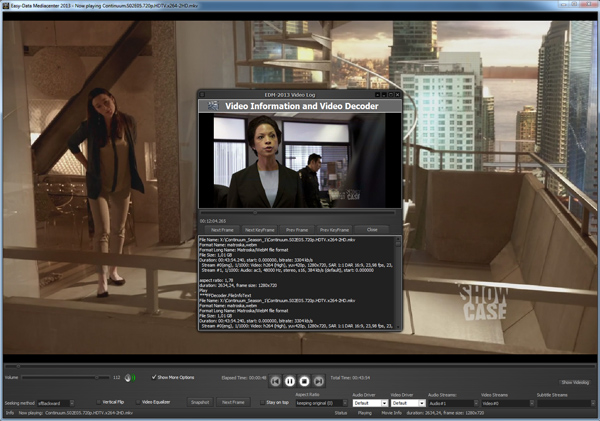 Video player with decoder window opened.
Older news can be found here
To get a closer look at Easy-Data Mediacenter (EDM2013) you can go here
You could also take a look at our CD/DVD burner: Silentnight Microburner
Finally, if you are looking for great freeware this place is one of the absolute best places to go!